Tuesday, February 19, 2013
1. Tile Showroom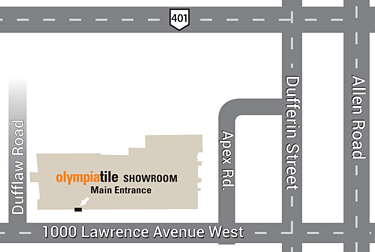 1000 Lawrence Avenue West, Toronto, Ontario M6A 1C6
T: 416 785-6666 F: 416 785-9682
Email: info@olympiatile.com
Business Hours:
Mon - Wed 8:00 a.m. - 7:00 p.m.
Thursday 8:00 a.m. - 9:00 p.m.
Friday 8:00 a.m. - 5:00 p.m.
Saturday CLOSED
Sunday 10:00 a.m. - 5:00 p.m.




Sunday, May 22, 2011
We are pleased to announce the launching of the web-site for our new Stone Slab Division. There you will be able to view our extensive inventory of Granite, Marble, Onyx, Travertine, Limestone, Quartzite and Quartz slabs. We invite you to view us at:
Thursday, October 1, 2009
Olympia Tile and Stone is proud to advise that it is a Corporate Member of the prestigious Canada Green Building Council. As a balanced, consensus coalition representing the entire building industry, the Council promotes the design, construction, and operation of buildings that are environmentally responsible, profitable and healthy places to live and work.